Planning a Superconducting Magnet System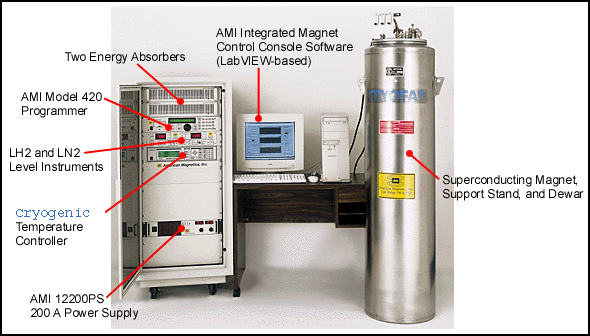 Magnet Support Stand and Lambda Plates
Helium Vapor Cooled Current Leads
Cryogenic Level Instrumentation
A typical magnet system supplied by AMI consists of a magnet, dewar, controls and instrumentation. AMI provides an integrated system that is fully covered by our standard warranty. Each magnet manufactured by AMI is tested in excess of the rated field before being installed in the final dewar. The magnet/dewar system is tested for leak tightness, vacuum integrity, and proper operation of the magnet before it is shipped to the customer.
Control and instrumentation systems are usually provided in a standard 19 inch roll-around instrumentation cabinet. The cabinet is shipped as an integrated modular unit that requires a minimum of effort to install at the customer's facility. All interconnecting cables are clearly marked and an installation, operations and maintenance manual is provided with each system.
We can also interface your magnet system to a computer for automation and control. From a remote computer location you can, for example, switch your magnet in and out of the persistent mode, set the magnet current limit, set the magnet current charge rate and reverse the magnet field.
Custom and complex systems are completely assembled and tested at the AMI facility before shipment. The customer is encouraged to visit the AMI facility to witness the final acceptance tests and become familiar with the operation of the system before it is shipped.
AMI is interested in helping you satisfy your magnet system requirements. To that end, we have structured the company to be responsive to your needs. We can develop a complete, turn-key magnet system for you by utilizing standard AMI products or by developing custom modules to solve your particular application problem.
AMI's experts are always available by telephone for technical consultation and we invite you to visit with us at our Oak Ridge facility. We can assist you in defining your system requirement as a no cost service. In the rare instance that customer start-up assistance is required at the customer's facility, we are available to provide this service at our standard service rate.